Purdey and Princess Diana
Hairstyles in the 1980s were mostly large and large. Look at any picture of the Princess of Wales and you will see every hair style women followed throughout the decade. The decade began with a continuance of the Purdey cult hair cut.

The New Avenger series of 1976-79 and which starred Joanna Lumley left above, is recalled as much as anything for its famous Purdey Haircut. The Purdey streamlined hair style was simply a version of a slick bob with a definite back neckline contour.
Versions were seen throughout the 1980s and the hairstyle worn by Princess Diana at her engagement above is a version of this bobbed combed forward style with shaped nape of neck style.
Once Dynasty the TV Show about millionaire lifestyles appeared on our TV screens, overblown long hair as shown in the promotional picture above was widely copied.
1980s Hair Styles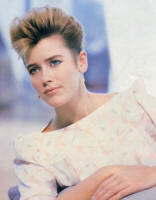 This row of pictures show late 1980's images of short, but full high hairstyles which owed much to the popularity of earlier punk hair styles of the late 1970s. The effect was quiff like.
Big Hair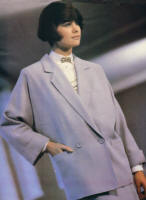 Everyone had big hair even those people with short hair. But as always there were variations and working women opted for styles which could be easily blow dried and tonged with a cordless or electric styling brush.
Carmen style heated rollers and hair rollers disappeared from most dressing tables as blow drying plus finger shaping of strands with wax firmly established itself as the favourite way to finish hair for the majority of women.

Hair was frequently brushed forward and stranded to create another popular style such as the far right bob picture.
Flicks continued to be popular especially as hair got bigger. Indeed it was the flicks that gave extra volume along with new hair products like hair mousse and hair gel.
More 1980's Styles
In the pictures on this page the dropped shoulder styles, large shoulders and oversized jackets are very representative of fashions ordinary working women wore.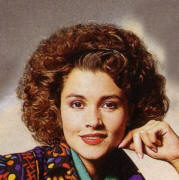 Other styles in fashion in the very early 1980s were the afro perm worn by white people of both genders. Naturally curly hair that was long or medium length continued to be in fashion and long curly spiral or just curled permed styles were also popular.
If you like 1980's music this may be the music site for you at
www.80s-radiomusic.com